my first PR
woohoo!
friday i was bored. what to do when bored? look for a race!
i found a 5k that went around lake calhoun on saturday morning. perfect. so i got up early and went to register on-site. wow i had to pin my bib on right at the race, now thats some pressure!
i finished in about 26:20 compared to my first 5k this past spring of 28:41. i forgot to shut off my watch so my read-out says 26:25.8, but lets call it 26:20 until the results are posted. my average pace was something like 8:12 compared to 9:xx before.
it was great although i was just a tad disappointed. as a new racer, i find it very, very tricky to reach that perfect balance of running as fast as you can and not going so fast that you won't be able to finish in one piece. its so tricky. that is something that i hope to keep working on by doing more races. races are awesome!
i was pretty much out of breath for the whole 3.1 miles. good times. i felt a little under-prepared cuz i haven't been running much for a couple weeks. i started my finishing kick too late. you'd think i would learn by now. i couldn't see the finish line right away and we all know how that can be a big motivator.
well anyway, regarding the disappointment: during training i was able to mix in 7:45-50 miles once in a while but i wasn't able to pull off one of those splits today. no biggie, this way i can PR again next spring!
my dream 5k (for me) is 24:00.
all in all, racing is awesome. and i pretty much smoked my old self.
splits-
june 29 5k 8:50, 8:58, 9:02, 7:04 sprint in
oct. 15 5k 8:12, 8:17, 8:18, 6:47 sprint in
woohoo!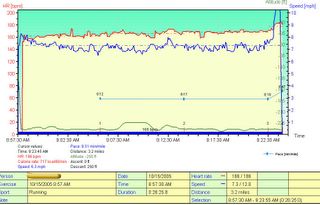 ..